The Science and Art of Holograms - Professor Martin Richardson , DMU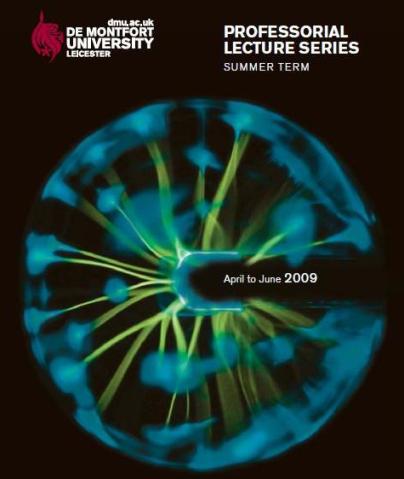 Professor Martin Richardson, Professor from the Faculty of Art and Design at De Montfort University gives his inaugural lecture.
Professor Martin Richardson believes that holography is one of the greatest scientific discoveries of our time. It reveals the true nature of vision, and more importantly, the essence of light and how it interacts with matter. Science and art attempt to uncover the truth about our universe, science through its pursuit of measurement and calculation exploring the substance of matter while art explores another universe, the inner universe of the human spirit through introspection and reaction. This lecture will trace Martin's personal journey with both the science and art of holography detailing some of the highlights on the way.
Professor Richardson achieved the world's first PhD in display holography from the Royal College of Art, London, and has been awarded The Millennium Fellowship by the UK Millennium government commission. He has worked as both scientist and artist recording film directors Martin Scorsese and Alan Parker as holograms, as well as the Fine Artist Sir Peter Blake and rock star David Bowie, all detailed in his first book 'Spacebomb: Holograms and Lenticulars 1980-2000'. His second book 'The Prime Illusion: Holography In The New Age Of Digital Media' has now been translated into Chinese by the University of Beijing Press, China to be published later this year. He is currently Chair in Modern Holography in the Department of Imaging and Communication Design at De Montfort University.
Speaker(s):

Professor Martin Richardson | talks


Date and Time:

21 May 2009 at 6:00 pm

Duration:


1 hour

Venue:


The Queens Building, De Montfort University
De Montfort University
The Gateway
Leicester
LE1 9BH
0116 257 7452

Show map



Organised by:


Professorial Lecture Series
See other talks organised by Professorial Lecture Series...

Tickets:

Free

Available from:

To book a place or for more information please email Daniel Jones at djones@dmu.ac.uk or telephone 0116 257 7452

Additional Information:

Places must be booked in advance as there are limited places. There will be a free drinks reception afterwards for guests to be able to further discuss the event.
Register to tell a friend about this lecture.
Comments
If you would like to comment about this lecture, please register here.