Fossils, fact and fiction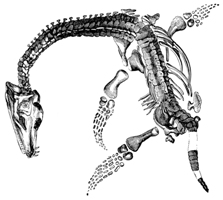 Tracy Chevalier discusses her book about fossil collector, Mary Anning, with Dr Richard Fortey.
Tracy Chevalier FRSL in conversation with Dr Richard Fortey FRS
Chaired by Dr Alice Roberts
Organised jointly by The Royal Society and The Royal Society of Literature.
Mary Anning, an early nineteenth-century fossil collector, discovered the first British pre-dinosaur fossils, such as
ichthyosaurs and plesiosaurs, on the rocky shores of Lyme Regis. Tracy Chevalier's latest book, Remarkable Creatures,
explores how the results of Mary Anning's findings eventually paved the way for Darwin and his theory of evolution. Tracy Chevalier discusses her new book with Dr Richard
Fortey, who is currently working on a book about organisms which have survived from deep geological time. Their conversation will be chaired by Dr Alice Roberts.
Tracy Chevalier FRSL, author of the hugely successful
Girl with a Pearl Earring, ingeniously blends historical fact
with imagination. Her latest novel, Remarkable Creatures,
is published in August this year.
Dr Richard Fortey FRS is a senior paleontologist at the Natural History Museum in London. His previous books include Trilobite! Eyewitness to Evolution, short-listed for the Samuel Johnson Prize in 2001, and The Hidden Landscape: A Journey into the Geological Past, which won the Natural World Book of the Year. He was also the winner of The Royal Society Michael Faraday Prize in 2006.
Dr Alice Roberts is best known as a television presenter
of Coast, and The Incredible Human Journey. She has also
appeared as an expert osteoarchologist on various television
programmes, including Time.
This lecture is free - no ticket or advanced booking required. Doors open at 5.45pm and seats will be allocated on a first-come-first-served basis.
This lecture will be webcast LIVE at royalsociety.org/live and available to view on demand within 48 hours of delivery.
Speaker(s):

Professor Richard Fortey | talks
Tracy Chevalier | talks
Professor Alice Roberts | talks


Date and Time:

5 October 2009 at 6:30 pm

Duration:


1 hour

Venue:


The Royal Society
6-9 Carlton House Terrace
London
SW1Y 5AG
+44 20 74 51 2500
http://www.royalsociety.org

More at The Royal Society...

Tickets:

Free

Available from:

This is a free public event
Register to tell a friend about this lecture.
Comments
If you would like to comment about this lecture, please register here.