The unexpected Orientalists: or how two Victorian ladies, rich and eccentric, made a priceless find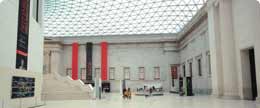 Annual Governor James Albert Noe and Mrs Anna Gray Noe lecture in the religious traditions of the Middle East
The unexpected Orientalists: or how two Victorian ladies, rich and eccentric, made a priceless find at St. Catherine's monastery and what happened next
Annual Governor James Albert Noe and Mrs Anna Gray Noe lecture in the religious traditions of the Middle East.
Professor Janet Soskice, Fellow of Jesus College, Cambridge and author of Sisters of Sinai tells the fascinating story of Agnes and Margaret Smith who in 1892 made the difficult journey to St. Catherine's monastery at Mount Sinai, found a priceless Syriac manuscript of the Gospels and, aged over 50, reinvented themselves as scholars of Syriac and Arabic manuscripts.
Speaker(s):

Professor Janet Soskice | talks


Date and Time:

15 October 2009 at 6:00 pm

Duration:


2 hours

Venue:


British Museum
Great Russell Street
London




More at British Museum...

Tickets:

Admission free, no pre-booking required.

Available from:

Book event tickets through the British Museum Ticket Desk 10.00-16.45 daily
Telephone +44 (0)20 7323 8181
www.britishmuseum.org

Additional Information:

For more information, contact:
Rebecca Spence-Kirkham on +44 (0) 7323 8595, or rspence-kirkham@britishmuseum.org
Register to tell a friend about this lecture.
Comments
If you would like to comment about this lecture, please register here.