In the Brain of the Beholder? - The principles of beauty and sex appeal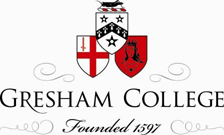 Lifting the cover on the psychology behind beauty and sexual attraction.
What constitutes human facial beauty and bodily attractiveness? How do these traits connect with health, fertility, and parental fitness? Differences across time and culture in the attributes that are attractive will be outlined and suggestions made as to what accounts for these variations.
For more information, please visit the event's page on our website:
http://www.gresham.ac.uk/event.asp?PageId=45&EventId=921
Speaker(s):

Date and Time:

25 January 2010 at 6:00 pm

Duration:


1 hour

Venue:


Gresham College
Barnard's Inn Hall
Holborn
London
EC1N 2HH
+44 20 78 31 05 75
http://www.gresham.ac.uk

More at Gresham College...

Tickets:

Free

Available from:

Additional Information:

No reservations are required.
The event will be run on a "First come, first served" basis.
Register to tell a friend about this lecture.
Comments
If you would like to comment about this lecture, please register here.