Cool Houses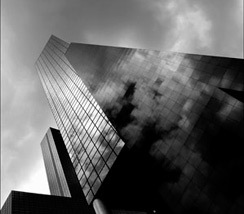 How have buildings, past and present, dealt with extreme temperatures? Join architects and historians to look at how different methods, ancient and modern, are used to ensure that buildings are places we can live and work in.
Achieving and maintaining a comfortable temperature inside buildings has historically been one of the main challenges for architects and engineers the world over.
Dr Subhi Al-Azzawi takes us to 19th-century Baghdad, where the naturally cooled indigenous courtyard houses managed to maintain a temperature difference between exterior and interior only achieved in the Western world 75 years later by electrical means. Discover how Iraqi master builders of the past used processes such as convection and evaporative cooling and what modern designers can learn from them.
In this era all alternatives to energy-intensive air conditioning are needed. Award-winning expert on sustainable architecture Lynne Sullivan explores advances in low-energy cooling designs. What new technologies and solutions can help us design the buildings of tomorrow?
Come and discuss with our experts the past, present and future of cool houses.
Speaker(s):

Event organised by: Science Mu | talks


Date and Time:

26 January 2010 at 7:00 pm

Duration:


1 hour 30 minutes

Venue:


The Dana Centre
The Science Museum's Dana Centre
165 Queen's Gate, South Kensington
London
SW7 5HD
+0044 (0)207 942 404
http://www.danacentre.org.uk/

More at The Dana Centre...

Tickets:

Free

Available from:

Call 020 7942 4040 or e-mail tickets@danacentre.org.uk

Additional Information:

Note: Please register attendance online
Register to tell a friend about this lecture.
Comments
If you would like to comment about this lecture, please register here.