On the Soul in the Platonic Tradition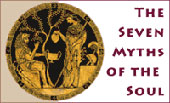 The Nature and Faculties of the Soul
A general look at the nature of the soul as the self; its three faculties and their energies as symbolised by the classes of citizens in the Republic and in the image of the chariot in the Phaedrus. We will consider the concept of the soul as a "compendium of the universe" or microcosm, and the soul's relation to the divinity, to intellect and to body.
Register to tell a friend about this lecture.
Comments
If you would like to comment about this lecture, please register here.