Big Bangs and Black Holes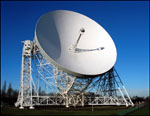 Join Professor Carole Mundell as she discusses Active Galactic Nuclei and Gamma Ray Bursts, both powered by black holes.
Although the idea of 'black holes' dates back over 200 years, they remained a speculation until the late 20th century. Their existence has now been confirmed by observation but questions regarding their creation and far-reaching consequences are at the forefront of modern astronomy. Astronomers can never hope to travel to black holes and so instead rely on the coded information contained within the light detected from these distant objects. The visible light to which our human eyes are most sensitive has enriched culture for thousands of years. However, this light represents only a small fraction of the total light available for collection; technological advances in the 20th and 21st centuries have ensured that we can collect light ranging from the highest energy gamma rays, through X-rays to long wavelength radio waves - the whole range of the 'electromagnetic spectrum'. In this talk, Professor Carole Mundell from Liverpool John Moores University will introduce some of the most powerful phenomena in the Universe that are driven by black holes, big and small - Active Galactic Nuclei and Gamma Ray Bursts. astronomer in the modern era of robotic telescopes and real-time discoveries.
Speaker(s):

Date and Time:

15 July 2010 at 7:45 pm

Duration:


1 hour

Venue:


Jodrell Bank Observatory
Manchester University
Macclesfield
SK11 9DL
+44 14 77 57 13 21
http://www.jb.man.ac.uk

More at Jodrell Bank Observatory...

Tickets:

£7

Available from:

Jodrell Bank Visitor Centre or by calling 01477 571 339. Admission by ticket only.

Additional Information:

Gates open at 7pm.
Register to tell a friend about this lecture.
Comments
If you would like to comment about this lecture, please register here.