Don't Eat Animals: An Intelligence Squared Debate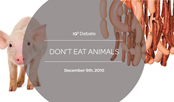 Intelligence Squared are hosting a debate - 'Don't Eat Animals, speakers include Peter Singer, Heather Mills and Julian Baggini.
DON'T EAT ANIMALS
Steak and kidney pie. The Sunday roast. Mmm, delicious. In fact more than delicious, part of our way of life. Part of our common humanity, too, since eating meat is probably what allowed our brains to grow big enough to become fully human in the first place. So how could anyone be persuaded to give up eating it? Easy, sa...y the vegetarians. Go to an abattoir. Listen to the shrieks, look at the fear in the eyes of the cow. Then go to a supermarket and look at the results of that bloodfest all neatly packaged up to disguise the cruelty and suffering that preceded the shrink wrap. No one with a streak of compassion, no one who calls themselves human could then stretch out their hand, plonk the slaughter in their shopping basket and feel they were doing right. Or could they? Come to the debate and find out.
Speakers include:
For the motion:
Heather Mills - Campaigner and fundraiser for animal rights and other charitable causes.
Peter Singer - Live via video link. Professor of Bioethics at Princeton University and author of the 1975 book Animal Liberation.
Abbas Daneshvari - Professor of Art History, California State University.
Against the motion:
Julian Baggini - Philosopher whose books include The Pig that Wants to be Eaten: 100 Experiments for the Armchair Philosopher.
Robin Dunbar - Professor of Evolutionary Biology at Oxford University and author of The Human Story and How Many Friends Does One Person Need?
Paul Levy - Food writer, broadcaster and editor of The Penguin Book of Food and Drink.
Chair:
Sir Simon Jenkins - Author, columnist on the Guardian and Evening Standard, and chairman of the National Trust.
Speaker(s):

Heather Mills | talks
Prof Peter Singer | talks | www
Dr Julian Baggini | talks | www
Professor Robin Dunbar | talks
Paul Levy | talks
Abbas Daneshvar | talks
Sir Simon Jenkins | talks | www


Date and Time:

9 December 2010 at 6:45 pm

Duration:


2 hours

Venue:


Kensington Town Hall
Hornton Street
London
W8 7NX


Show map



Organised by:


Intelligence Squared
See other talks organised by Intelligence Squared...

Tickets:

Regular tickets are priced at £25

Available from:

http://www.intelligencesquared.com/events/dont-eat-animals

Additional Information:

Doors open at 6:00 pm. The event starts at 6:45 pm and finishes at 8:30pm
Register to tell a friend about this lecture.
Comments
If you would like to comment about this lecture, please register here.