World Philosophy Day 2010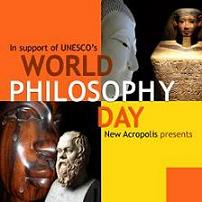 "…since wars begin in the minds of men, it is in the minds of men that the defences of peace must be constructed".
(from the Preamble to UNESCO's constitution)
To celebrate World Philosophy Day – a project initiated by UNESCO in 2005 – we would like to invite you to an evening of talks, food and dialogue.
This year, three different speakers will offer short presentations on the theme "Philosophy is…" to highlight the importance of philosophy as an inspiration to action, as a search for meaning and as a way of life.
During the break and afterwards there will be buffet-style refreshments and time for philosophical conversation.
Register to tell a friend about this lecture.
Comments
If you would like to comment about this lecture, please register here.