Bonds of love and affection at the London Foundling Hospital in the eighteenth century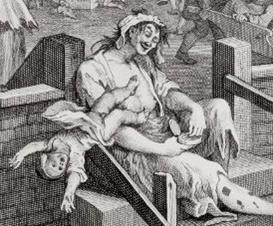 Dr Alysa Levene explores the emotional experiences of the children left at the Foundling Hospital in the eighteenth century
In conjunction with Threads of Feeling, Dr Alysa Levene explores the emotional experiences of the children left at the Foundling Hospital. Over 18,000 babies and young children were left at the Foundling Hospital between its opening in 1741 and the end of the eighteenth century.
We know almost nothing about the emotional experiences of any of them. However, we can tease out something of the emotional bonds that existed between these children and their parents by examining the letters and tokens left with them. Very few of these children were ever taken back by their families, but this was not the end of their experiences of family life. Most were sent to be wet nursed in foster homes in the countryside, and here too, we can see some evidence of their experiences via the letters written by the inspectors of nurses back to the hospital. Not all of these experiences were happy, but this talk will illustrate how much the Foundling Hospital records can tell us about mothering, nurture and the model of childhood in the eighteenth century.
Dr Alysa Levene is a Senior Lecturer at Oxford Brookes University and author of Childcare, health and mortality at the London Foundling Hospital, 1741-1800: 'left to the mercy of the world' (Manchester University Press, 2007). She was also the general editor Narratives of the Poor in Eighteenth-Century England (Pickering and Chatto, 2006).
Speaker(s):

Dr Alysa Levene | talks


Date and Time:

25 January 2011 at 6:30 pm

Duration:


2 hours

Venue:


The Foundling Museum
40 Brunswick Square
London
WC1N 1AZ
+44 20 78 41 36 00
http://www.foundlingmuseum.org.uk/

More at The Foundling Museum...

Tickets:

£12, £10concession

Available from:

40 Brunswick Square, London WC1N 1AZ
020 7841 3600
www.foundlingmuseum.org.uk

Additional Information:

enquiries@foundlingmuseum.org.uk
Register to tell a friend about this lecture.
Comments
If you would like to comment about this lecture, please register here.