London's Disasters: from Boudicca to the Banking Crisis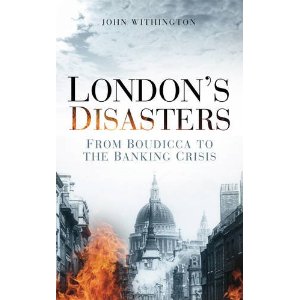 Free Lunchtime lecture by John Withington.
From AD61, when Queen Boudicca - outraged at her treatment at the hands of the Romans - marched on to the city and burned it to the ground, London has been hit by wave upon wave of destruction. This talk will look at the story of over 2,000 years of disaster from fire, water, disease, pollution, accident, storm, riot, terrorism and enemy action.
John Withington's latest book "London's Disasters: from Boudicca to the Banking Crisis" (The History Press) is the first ever comprehensive history of London disasters, featuring well-known catastrophes like the Black Death and the Blitz, but also lesser known events like the original Great Fire of London and the burning down of Europe's greatest palace.
John Withington is the author of a number of books including "A Disastrous History of Britain" and "A Disastrous History of the World". A former television producer, he wrote and directed more than 40 documentaries including Royal London and Secret City. He writes regularly for newspapers and magazines, and blogs daily on the history of disasters at http://disasterhistorian.blogspot.com.
Speaker(s):

John Withington | talks


Date and Time:

4 January 2011 at 12:30 pm

Duration:


1 hour

Venue:


Shoe Lane Library
Hill House
1 Little New Street
London
EC4A 3JR
020 75837178
http://www.cityoflondon.gov.uk/shoelanelibrary

More at Shoe Lane Library...

Tickets:

free

Available from:

No ticket or pre-booking required. Seating capacity 50 for each talk plus standing room. We suggest arriving a little early to secure a seat.

Additional Information:

Nearest Public Transport: Chancery Lane Tube (Central Line) or City Thameslink (Ludgate Hill). Buses - Fleet Street or Farringdon Road.

Contact: 020 7583 7178 or shoelane@cityoflondon.gov.uk

Website:
www.cityoflondon.gov.uk
Register to tell a friend about this lecture.
Comments
If you would like to comment about this lecture, please register here.