Lunchtime Lecture: "In paynted pots is hidden the deadliest poyson": English delftware drug jars at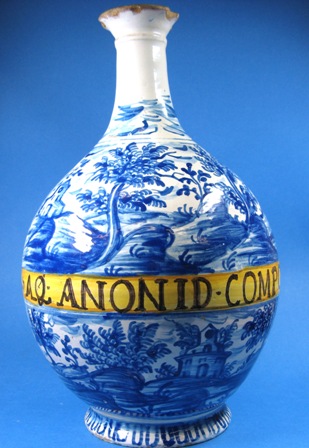 Join us for a Lunchtime Lecture as Briony Hudson explores the history of College's collection of painted delftware drug jars.
Tucked away in the stores of the Hunterian Museum is a collection of around eighty apothecaries' drug jars from England and continental Europe. Donated by Sir St Clair Thomson shortly after the destruction of the College in 1941, they are an unusual addition to a collection based around surgery and anatomy. Briony Hudson will provide a beginner's guide to these beautiful yet practical vessels and demonstrate that delftware drug jars have an undervalued role to play in understanding medical practices in the 17th and 18th centuries.
Lectures last approximately 45 mins plus time for questions.
Live speech-to-text for deaf and hard of hearing visitors delivered by STAGETEXT.
Tickets
£4 (Booking essential on 020 7869 6568)
Speaker(s):

Date and Time:

6 August 2013 at 1:00 pm

Duration:


1 hour

Venue:


Hunterian Museum, London
The Royal College of Surgeons of England
35-43 Lincoln's Inn Fields
London
WC2A 3PE
020 7869 6560
http://www.rcseng.ac.uk/museums

More at Hunterian Museum, London...

Tickets:

£4

Available from:

Booking essential, please call 020 7869 6568
Register to tell a friend about this lecture.
Comments
If you would like to comment about this lecture, please register here.