Salon - Dance and Art Forum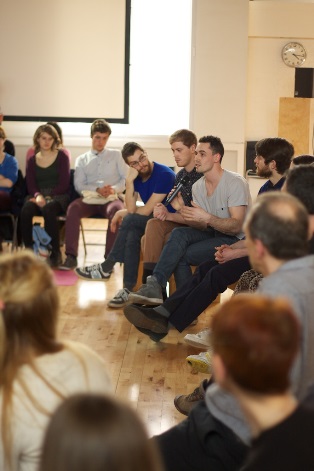 An afternoon of discussion for artists, curators and producers with an interest in dance and performance in visual arts spaces.
Dance is increasingly and regularly programmed in museums, galleries and visual arts spaces. But as dance and visual arts have grown physically closer, have we narrowed the gaps in understanding between each other's artforms, or do they simply co-exist? And when we witness a performance do we see the same thing?
These are just some of the questions that will be explored during the Salon, a new event which follows on from Siobhan Davies Dance's two previous Dance and Art Forums. Having looked at 'why' dance in galleries, and 'how' that could take place, this Salon brings together curators and dance producers to investigate different perceptions of dance content when presented in visual arts spaces.
The event will use a live performance of an extract from Singular, a movement installation by Joe Moran (semi-finalist, The Place Prize 2012), as a springboard for debate with a panel of leading curators and dance producers, followed by a discussion with the audience.
The panel includes Stephanie Rosenthal (Hayward Gallery), Lauren Wright (Turner Contemporary), Claire Hicks (Dance 4) and Eckhard Thiemann (Siobhan Davies Dance).
Join us for the afternoon to contribute to the discussion, and to network with others working in these fields.
Register to tell a friend about this lecture.
Comments
If you would like to comment about this lecture, please register here.