'Injustice: Why social inequality still persists' with Danny Dorling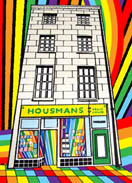 The National Secretary of the IWW, Dave Pike, introduces the fighting union, what it stands for and how it is winning victories for the working class - like higher wages for cleaners, permanency for temps and safety at work for fast food workers.
'Injustice: Why social inequality still persists'
with Danny Dorling
Thursday 22nd October, 7pm
Entry £3, redeemable against any purchase
In the five years since the first edition of 'Injustice' there have been devastating increases in poverty, hunger and destitution in the UK. Globally, the richest 1% have never held a greater share of world wealth, while the share of most of the other 99% has fallen in the last five years, with more and more people in debt, especially the young. Economic inequalities will persist and continue to grow for as long as we tolerate the injustices which underpin them.
This fully rewritten and updated edition revisits Dorling's claim that Beveridge's five social evils are being replaced by five new tenets of injustice: elitism is efficient; exclusion is necessary; prejudice is natural; greed is good and despair is inevitable.
By showing these beliefs are unfounded, Dorling offers hope of a more equal society. We are living in the most remarkable and dangerous times. With every year that passes it is more evident that Injustice is essential reading for anyone concerned with social justice and wants to do something about it.
Reviews
"Superb and invaluable ammunition in the fight against inequality and injustice"
Owen Jones, author and Guardian columnist
"Rich insights into how prejudice, presumption and a paucity of regard for our fellow human beings reinforces poverty as well as privilege."
David Cay Johnston, journalist and author, Pulitzer Prize winner
"A rallying point for a different vision of society, one in which elitism is replaced by equality, exclusion and prejudice by acceptance, greed by selflessness, and despair by confidence. It is only in such an environment that individual fulfilment, regardless of position in the social order, and so desperately craved but so rarely realised in capitalist society, is available to all. What, then, are we waiting for?"
The Oxford Left Review
"Think twice before reading this book – you may well become an activist against social injustice, inequality and the exploitation of labour. Danny Dorling gives us words that are weapons."
Ken Loach, director
Paperback, 484 pages, 216 × 138 mm
Other formats available
ISBN 9781447320753
£9.99
Speaker(s):

Professor Danny Dorling | talks


Date and Time:

22 October 2015 at 7:00 pm

Duration:


1 hour 30 minutes

Venue:


Housmans Bookshop
5 Caledonian Road
King's Cross
London
N1 9DX
020 7837 4473
http://www.housmans.com/

More at Housmans Bookshop...

Tickets:

Entry £3, redeemable against any purchase

Available from:
Register to tell a friend about this lecture.
Comments
If you would like to comment about this lecture, please register here.