Age of Extinctions
THIS EVENT HAS BEEN CANCELLED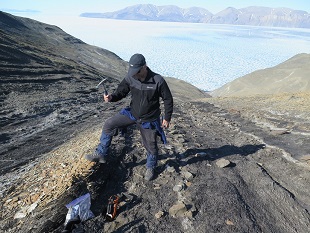 Think it was just the dinosaurs that suffered? Come along to explore some of Earth's fiercest and forgotten mass extinction events.
Long before the mass extinction of the dinosaurs, in a catastrophic period spanning 80 million years, extinction after extinction swept the Earth. 'The Great Dying' was the most famous of these, wiping out nearly all life on the planet. But what made this relatively short period so disastrous for life?
Join Professor Paul Wignall in a detective story involving all life on Earth, exploring his research into giant volcanism, dangerous gases and global geography.
For all enquiries, please contact: events@royalsociety.org
Speaker(s):

Professor Paul Wignall | talks


Date and Time:

17 November 2015 at 6:30 pm

Duration:


1 hour 30 minutes

Venue:


The Royal Society
6-9 Carlton House Terrace
London
SW1Y 5AG
+44 20 74 51 2500
http://www.royalsociety.org

More at The Royal Society...

Tickets:

Free

Available from:

Additional Information:

Free
No registration required
Doors open at 6pm
Seats allocated on first come first served basis

Enquires: events@royalsociety.org
Register to tell a friend about this lecture.
Comments
If you would like to comment about this lecture, please register here.