Nursing a Pandemic: First Responses (Online Event)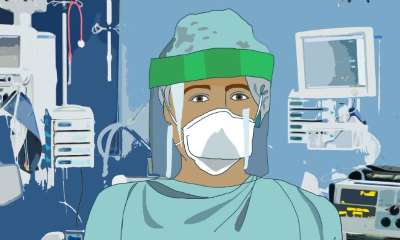 Join us for the first in a new series of online events recording the nursing experience of the ongoing COVID-19 Pandemic.
We are living in historic times. Since the World Health Organization declared a pandemic in 11 March 2020, nursing staff have performed a huge range of vital roles in the COVID-19 response in the UK and beyond. Now is the time to go beyond the "clap for carers" and better understand what life during the pandemic has been like for nursing staff in different situations and contexts. From first responders and nursing leaders to staff working in care homes and the nursing students who stepped up from their degrees to support the NHS, this series marks the ongoing impact of the pandemic on nursing and nurses.
Each virtual event takes the form of two live interviews with nursing and healthcare staff and students, followed by a Q&A. The interviews will be recorded and added to the RCN archive, making sure these nursing experiences are recorded for posterity.
COVID: First Responses
In this first event, we will hear from two people involved in healthcare in different capacities during the early days of the pandemic. The interviewer is Dame Professor Anne Marie Rafferty, RCN President.
• Chris Carter. Chris was seconded from his role as senior lecturer at Birmingham City University to be the second Matron for Critical Care at University Hospital Lewisham for 3 months during the early days of the Covid-19 pandemic
• Rose Gallagher. Rose is the RCN Professional Lead for Infection Prevention and Control.
This event is open to all, and will take place online. Please sign up to attend and the link to join will be circulated in advance.
Image: ICU © Helen Jones
Speaker(s):

Date and Time:

18 November 2020 at 5:30 pm

Duration:


1 hour 30 minutes

Venue:


Royal College of Nursing
20 Cavendish Square
London
W1G 0RN
029 2054 6460
http://www.rcn.org.uk/events

More at Royal College of Nursing...

Tickets:

Free

Available from:

https://www.eventbrite.co.uk/e/nursing-a-pandemic-first-responses-tickets-125344253035

Additional Information:

This event will be held online and is open to everyone. Information on how to join will be sent to your email address prior to the event.
Register to tell a friend about this lecture.
Comments
If you would like to comment about this lecture, please register here.