Theories of everything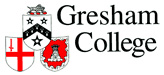 BIG IDEAS
What do physicists mean by a 'Theory of Everything'? And what do they mean by 'Everything'? Ever since 1982 there has been a focus of attention upon 'string theories' as possible Theories of Everything. What are these theories like and what remarkable things do they predict about our Universe? Do they mean that physics is coming to an end? In this last lecture we also look forward to some of the exciting developments that physics and astronomy may have in store for us in the next few years.
Register to tell a friend about this lecture.
Comments
If you would like to comment about this lecture, please register here.