Good Contemporary Design in Historic Churches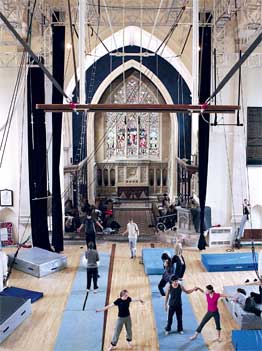 Join us for a discussion on how to achieve high quality contemporary design in historic contexts.
Date: Tuesday 28 February 2012
Time: Drinks from 6.30pm, talk from 7 to 8pm
Venue: The Gallery, 77 Cowcross Street, London EC1M 6EJ
Speakers: Crispin Truman and Peter Aiers, The Churches Conservation Trust;
Heather Hilburn, Shape East
Tickets: £5 / £3 for students & concessions, inc. a glass of wine
Booking: http://www.eventelephant.com/goodcontemporarydesigninhistoricchurches
Join us for a discussion on how to achieve high quality contemporary design in historic contexts.
Crispin Truman and Peter Aiers of The Churches Conservation Trust will talk about their work bringing new use to historic churches at risk. They will provide case studies and examples of the churches they care for and how they work with local communities to bring them alive again. They will also talk about their wide range of projects and events to promote tourism, volunteering, education, arts and community use.
Heather Hilburn, CEO of Shape East will discuss the design support that they are providing to create a cultural hub in a church and its surrounding town square.
Crispin Truman joined The Churches Conservation Trust as Chief Executive in 2003. Crispin is a trustee of Heritage Alliance and chairs the national Heritage Open Days committee. He led the setting up of a new European network, Future Religious Heritage, which he now chairs. Crispin is also a trustee of The Building Exploratory; a secondary school governor in Hackney; and was formerly trustee of mental health charity Rethink and chair of the London Cycling Campaign.

Joining the Trust in 2007 Peter Aiers has a specific role to find sustainable solutions to complex urban churches within the Trust as well as running the Regeneration Taskforce to enable more community involvement in the care and maintenance of our wonderful portfolio.
Heather has an extensive background in architecture and commercial development and has worked in the UK's built environment industry for over 15 years. She has successfully delivered landmark Arts, Education and Leisure projects across Europe. She is a Trustee of London Spitalfield's City Farm, sits on the RIBA Building Futures Advisory Panel, as well as on the committee for Cambridge University Entrepreneurs, as Director for Social Enterprise.
Further information: www.architecturecentre.net
Register to tell a friend about this lecture.
Comments
If you would like to comment about this lecture, please register here.