Freeing the Spirit of Enquiry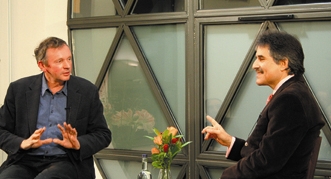 Rupert Sheldrake and Andrew Cohen in Dialogue
This dialogue between Rupert Sheldrake and Andrew Cohen—one a scientist, the other a cultural visionary, and both fearless and innovative pioneers in their respective fields—is not to be missed. They will speak about, and demonstrate, how a free spirit of enquiry can inform, enliven and enrich our understanding of both scientific and perennial truths.
Join Sheldrake and Cohen as they probe the definable and indefinable, the temporal and the infinite. With their years of research and irrepressible curiosity, they are shaping a new frontier where the truths of spirituality and science no longer compete but form an integrated pathway for the whole of human development.
Rupert Sheldrake is a controversial scientist and radical philosopher who, for many years, has been exploring territory that his more conventional peers have been too blinkered to seriously consider. His newest and widely acclaimed book, 'The Science Delusion', audaciously exposes the many assumptions that have hardened into the dogma that science is the only source of truth.
Andrew Cohen is a cultural visionary and spiritual teacher who is also a unique and revolutionary voice in his field. His ceaseless passion to understand and reveal the significance of enlightenment in the contemporary world has led him to the startling revelation, outlined in his recently published book 'Evolutionary Enlightenment', that the spiritual impulse encompasses two seemingly paradoxical dynamics: one, the movement through time toward an ever-expanding future and two, the pull towards timelessness or the ground of being, where time never existed.
Come and participate in a conversation that will rattle your assumptions, stir your curiosity and cause you to marvel at the many creative possibilities that a committed conversation can offer.
To read more and book tickets: http://tinyurl.com/cswnp59
Speaker(s):

Mr Andrew Cohen | talks | www
Dr Rupert Sheldrake | talks | www


Date and Time:

20 June 2012 at 7:00 pm

Duration:


2 hours

Venue:


EnlightenNext
13 Windsor Street
Islington
N1 8QG
020 7288 7000
http://www.EnlightenNext.org.uk

More at EnlightenNext...

Tickets:

Early Bird Special £12.00

Available from:

Through our website: http://tinyurl.com/cswnp59
Register to tell a friend about this lecture.
Comments
If you would like to comment about this lecture, please register here.