Can We Evolve Our Spirituality?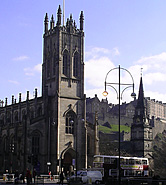 Bishop Brian Smith and Andrew Cohen in Dialogue
Spiritual perspectives frequently divide nations in an apparent competition for the ownership of souls. Faiths fight. Traditional religions are challenged by new age spirituality and cultural relativism. Believers and seekers are left confused by different understandings of faith, spirituality and the meaning of human existence. Only rare visionaries dare to tread this path and generate new pathways that can potentially resolve such profound tensions.
With this in mind, Andrew Cohen, founder of EnlightenNext, and the Right Rev. Brian Smith, former Bishop of Edinburgh, meet again after last year's sell-out event to explore what co-operation and collaboration in the evolving world of spirituality can look like.
This event is part of the Edinburgh Festival of Spirituality and Peace.
Speaker(s):

Mr Andrew Cohen | talks | www
Right Rev Bishop Brian Smith | talks


Date and Time:

7 August 2012 at 6:00 pm

Duration:


1 hour 30 minutes

Venue:


St John's
Princes Street
Edinburgh
EH2 4BJ


Show map



Organised by:


Tickets:

£8.50 - £10.50

Available from:

http://www.hubtickets.co.uk/show.asp

Additional Information:

Talk lasts 6pm - 7.15pm.
Register to tell a friend about this lecture.
Comments
If you would like to comment about this lecture, please register here.