Lost in London: Solving Your London Family History Problems
THIS EVENT HAS BEEN CANCELLED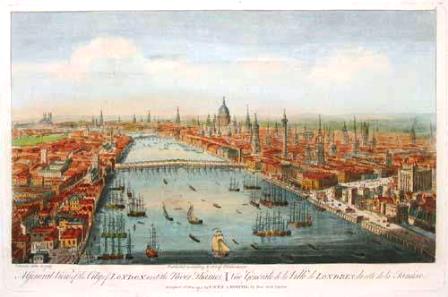 Find out the best ways to access and use London's diverse collection of records and pick up some tips on tracking down your lost London ancestors.
Tracing your ancestors back to the period before civil registration and the Victorian census returns can present a genuine challenge to most family historians. But if your family came from London, the problems that you're likely to face can be even harder to overcome.
The population of London doubled between 1801 and 1841 making it the most populated city in the world. Outlying villages were swallowed up as London spread ever outwards - the boundaries of what constituted London were constantly being redrawn. The administration of the area was enormously complicated - the City of London alone comprised over 100 parishes. The records of the various authorities responsible for running London are now spread across different record offices.
In this talk, Dave Annal covers:
- how to access the capital's diverse collection of records;
- how to effectively use them;
- useful tips on tracking down your elusive London ancestors.
Speaker(s):

Dave Annal | talks


Date and Time:

16 July 2016 at 10:30 am

Duration:


2 hours 30 minutes

Venue:


Society of Genealogists
14 Charterhouse Buildings
Goswell Road
London
EC1M 7BA
020 7553 3290
https://societyofgenealogists.arlo.co/w/

More at Society of Genealogists...

Tickets:

£20.00

Available from:

Please book and pay for your place in advance:
Visit our website: www.sog.org.uk
Phone us on 020 7553 3290.

Additional Information:

There are no special entry requirements and you do not need to be a Member of the Society of Genealogists. This talk is for anyone who is tracing their family ancestors. Expect a friendly atmosphere, an expert tutor and lots of detail.
Register to tell a friend about this lecture.
Comments
If you would like to comment about this lecture, please register here.