Family History: The Story of Marshalsea Prison
THIS EVENT HAS BEEN CANCELLED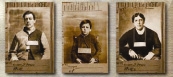 Join us as Stephen Humphrey takes us back to the Dickensian world of debtors' prisons to learn more about Marshalsea's famous history.
For 500 years until 1842, Southwark was the home of the Marshalsea Prison, one of London's three major debtors' prisons. Between 1811 and 1842 it stood on a site north of St. George's churchyard. It was there that John Dickens was admitted on February 24th, 1824.
The Marshalsea was very unlike today's criminal prisons and its bygone world was one that we can call truly Dickensian.? The head of that world was the Knight Marshal of the Royal Household. Debtors were sent to the Marshalsea from the Palace Court, which stood from 1812 in Great Scotland Yard, off Whitehall, and had its own advocates.
Stephen Humphrey takes us back to that world to learn more about Marshalsea's famous history.
There are no special entry requirements for this talk and you do not need to be a Member of the Society of Genealogists to attend. However, it is specifically for people interested in the history of Marshalsea Prison or thinking their ancestors were involved in its history. Expect a friendly atmosphere, an expert tutor and lots of detail.
Register to tell a friend about this lecture.
Comments
If you would like to comment about this lecture, please register here.