Fire and Pestilence: The Great Fire of London and Family History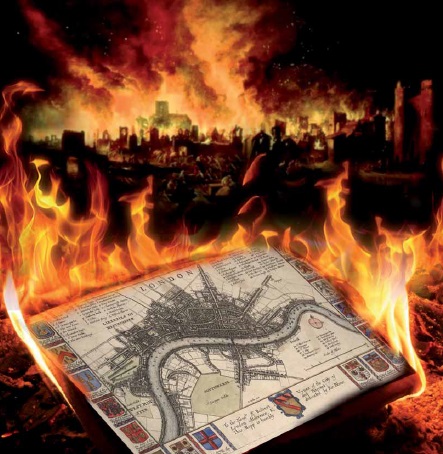 The Great Fire was a massive disaster in London's history. We are joining with other Museums and Archives to revisit those five terrifying days in the capital.
Join us for a whole day, at the Society of Genealogists, to explore the story of the Great Fire and how it affected Londoners and London. Attend talks and workshops covering the parts of London that burnt, where to find records on Londoners who lived through it and what happened when the Fire stopped. Lunch is provided, giving you a full day with us.
The Great Fire began on 2 September 1666 and destroyed one-third of London. It had a devastating effect on the lives of Londoners, from all parts of society.
Topics covered:
Gustav Milne, Vanessa Harding and Pete Smith aim to help you develop your understanding of how Londoners survived the Fire.
- The events during the five days that the Fire burned;
- What happened after the Fire ended.
- The records available relating to Londoners alive at the time;
- The area of London the Fire covered;
- Where to find surviving geographic and land records;
- The effect the Fire had on the Great Plague of 1665 in London.
Who should attend:
- Anyone that can trace their family back to the 1600s - expand your understanding of their lives and maybe uncover records you hadn't thought about;
- Anyone wanting to know more about how London changed and evolved because of the Great Fire and the Great Plague - where the Fire burnt and the changes that inevitably came afterwards;
- Anyone fascinated by the social history of London - understand your own family stories - learn about 1660s London and your ancestors' lives;
- Practising genealogists or anyone training to be a genealogist - enhance your understanding of this period of history.
Speaker(s):

Gustav Milne | talks
Vanessa Harding | talks
Pete Smith | talks


Date and Time:

3 September 2016 at 10:30 am

Duration:


Full Day

Venue:


Society of Genealogists
14 Charterhouse Buildings
Goswell Road
London
EC1M 7BA
020 7553 3290
https://societyofgenealogists.arlo.co/w/

More at Society of Genealogists...

Tickets:

£35.00

Available from:

For us to hold a place for you, the course must be booked and paid for in advance. You can do this by visiting our website (www.sog.org.uk) or phoning us on 020 7553 3290.

Additional Information:

From 10.30 am to 5.00 pm. Tea/coffee breaks and lunch included in the day.
Register to tell a friend about this lecture.
Comments
If you would like to comment about this lecture, please register here.