LBC 97.3 Live at the RSA: Does Heathrow need a third runway?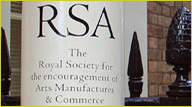 Join our debate live in the RSA Great Room and on simultaneous broadcast on LBC 97.3
Does the recent cabinet reshuffle signal a change in government aviation policy? The controversial question of a third runway for Heathrow is now right back on the political agenda. Tim Yeo MP and the new leader of the Green Party Natalie Bennett join Chief Executive of London First Baroness Jo Valentine, Daniel Moylan of TfL and LBC's James O'Brien to debate the issues. This event will be broadcast live on LBC 97.3.
How is it that individuals can express record levels of feelings of personal safety, job satisfaction, and contentment with the NHS, and yet 63 per cent state that Britain is broken? If certain polls show a static level of personal happiness for 30 years, regardless of economic downturn or upswing, does the national mood even matter?
In the wake of today's financial crisis, join us as we look at how people are thinking and feeling about today's economic, social and political climate, and consider the way forward.
With Matthew Taylor, Chief Executive RSA; Ben Page, Managing Director, Ipsos MORI; Deborah Mattinson, co-founder of Opinion Leader Research; and Paul Dolan, Professor of Economics at Imperial College Business School.
Chair: Daniel Finkelstein, Comment Editor, The Times
Book your free place by emailing lectures@rsa.org.uk or by phoning 020 7451 6868.
Speaker(s):

Tim Yeo MP | talks
Baroness Jo Valentine | talks
Natalie Bennett | talks
Daniel Moylan | talks
James O'Brien | talks


Date and Time:

17 September 2012 at 8:00 pm

Duration:


1 hour

Venue:


RSA
8 John Adam Street
London
WC2N 6EZ
+44 20 7451 6868
http://www.theRSA.org/events

More at RSA...

Tickets:

Free

Available from:

Book your free place online: http://www.thersa.org/events/our-events/lbc-debate-does-london-need-another-runway

Additional Information:

RSA

Lectures

The RSA runs a series of lectures around the UK covering a broad range of subjects.

In most cases our events are free and are open to the public as well as RSA Fellows.




Find an Event (goes to the

RSA

website)

View a full list of forthcoming lectures, or search for a specific event.
Register to tell a friend about this lecture.
Comments
If you would like to comment about this lecture, please register here.