Georgian Dining Academy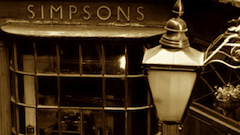 Wine and dine like it's 1759 in the candlelit snug of an antique City chop house
We're staging a multi-sensory dining experience at one of London's oldest chop houses, the Simpson's Tavern.
As featured on our Coffeehouse Tour, venerable Simpson's has been stuck in a gastro-historical time-warp since 1759.
So where better to recreate, for one night only, the lively, convivial atmosphere of a late Georgian coffeehouse.
Part dining club, part guided tour, part performance art, it promises to be an outstanding evening of wit, wisdom and candlelit bonhomie. Tickets cost £67.00 per head + booking fee in advance via our website.
Nestled in dusky wooden booths, guests will melt into conversation, exchange bon mots, and sharpen their wits. They'll be regaled with a hearty three-course meat extravaganza washed down with thick port and powerful coffee. Breaking with tradition, vegetarians will be catered for. (More info on the menu here).
Interspersed between courses, Dr Matthew Green and a troupe of actors and musicians will take guests on an imaginative, historical voyage through food, manners, wit and coffee, plunging guests into the lost world of eighteenth-century London.

The Simpson's Tavern is normally shut at night. So this is a rare opportunity to meet, greet, dine, and soak up ideas in one of London's oldest restaurants. The evening begins at 7pm with drinks in the Simpson's courtyard; wily courtesans (Miss Rose Deacon & Miss Kitty Pridden of Bramfoy's Purveyors of Living History) will show guests to their seats from 8pm, food will be served shortly thereafter, we'll stumble to the downstairs bar at 10.30pm, and coaches will arrive soon after. Dressing up is optional.
Register to tell a friend about this lecture.
Comments
If you would like to comment about this lecture, please register here.