The Philosopher in the World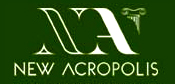 No individual or society could be truly happy if wisdom was not cultivated
That philosophy provided an intelligent basis for the arrangement of human life from the cradle to the grave was taken as fundamental by the philosophers of the ancient world. No individual or society could be truly happy if wisdom was not cultivated and embraced as the primary means for making the many choices which life in the world entails. In Platonic philosophy the intrinsic excellence of the human self was to be developed by the "political virtues" - political in the sense that the polis or city represented the organized life where human beings came together to share their various tasks, resources and insights. Our relationships with each other and with the natural word are at their best when the excellences of political virtues are unfolded.
Register to tell a friend about this lecture.
Comments
If you would like to comment about this lecture, please register here.