The Philosopher Amongst the Stars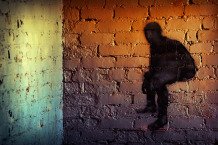 Plato's "return to the stars" indicated the highest form of human experience - at once contemplative and creative.
The origins of western philosophy are shrouded by the clouding of history and the fractures it has brought to the tradition: but what can be stated with a degree of certainty is that the earliest recorded philosophers such as Pythagoras and his followers, Parmenides, Socrates and Plato, is that they considered the ultimate aim of their philosophical studies and practices to be the restoration of the human soul to its divine likeness. Philosophy is not only the pursuit of truth, but the simultaneous pursuit of beauty: and as Diotima told Socrates, "Perceive you not, that in beholding the beautiful with that eye, with which alone it is possible to behold it, thus, and thus only, could a man ever attain to generate, not the images or semblances of virtue, as not having his intimate commerce with an image or a semblance; but virtue true, real, and substantial, from the converse and embraces of that which is real and true. Thus begetting true virtue, and bringing her up till she is grown mature, he would become a favourite of the Gods; and at length would be, if any man ever be, himself one of the immortals." The restoration of the soul's divine likeness enlarges its powers, and enables it to join completely the empire of the Good: its work upon the earth and upon itself is thus consummated and transformed. This third movement is especially the province of what the Platonists called the theoretical virtues - using the word theory in its original Greek sense, as being a contemplation.
Register to tell a friend about this lecture.
Comments
If you would like to comment about this lecture, please register here.