BBC British Isles: Dragonflies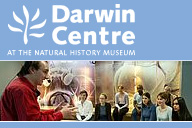 Explore of the fascinating world of dragonflies and discover how have they managed to thrive for over 250 million years
To coincide with the BBC's new series The British Isles: A Natural History, Darwin Centre Live will be looking at some of Britain's most extraordinary organisms. Join Steve Brooks as he takes us on an exploration of the fascinating world of dragonflies. How have they managed to thrive for over 250 million years, and why are many species now threatened with extinction?
Register to tell a friend about this lecture.
Comments
If you would like to comment about this lecture, please register here.