Building a Better Politics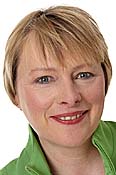 Shadown Leader of the House of Commons Angela Eagle MP will be speaking in Parliament about Building a Better Politics.
Since her election as the Labour MP for Wallasey in 1992, Angela Eagle has held a string of positions in both government and on the opposition front benches, including ministerial roles at the Home Office and the Treasury. And after a short tenure as Shadow Chief Secretary to the Treasury from 2010-11, Eagle became Shadow Leader of the House of Commons, a position she has held for nearly two years.
In 2003, shortly after returning to the backbenches, the Wallasey MP co-founded New Wave Labour alongside Jon Cruddas MP and Kevin Brennan MP, which sought to return the party to its pre-Blair roots. Though critical of Labour's change in direction, Eagle was a loyal supporter of the government during what was a highly active five-year spell away from the font benches from 2002-07, four of which were spent on the Treasury select committee. This earned her an immediate promotion to Exchequer Secretary at HM Treasury after Gordon Brown became prime minister.
With over 20 years' experience at the centre of Parliament and government, Angela Eagle has gained an intricate insight into the Parliamentary procedures and processes that keep our democracy ticking, and at this exclusive event will be outlining her views on how we build a better politics.
Register to tell a friend about this lecture.
Comments
If you would like to comment about this lecture, please register here.