Andrea Leadsom MP - 'The European Union and the Democratic Deficit'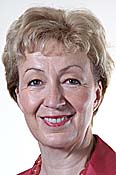 The Hansard Society and the Oxford University Press are delighted to announce Andrea Leadsom MP as the speaker at the 2013 Parliamentary Affairs Lecture.
Since her election as Conservative representative for South Northamptonshire in 2010, Andrea Leadsom has been at the forefront of the backbench campaign for the renegotiation of Britain's relationship with Europe and the repatriation of sovereign powers. And in 2011, alongside colleagues Chris Heaton-Harris MP and George Eustice MP, Leadsom co-founded the Fresh Start Group - a breakthrough research project designed to stimulate a critical discussion and analysis of the UK-EU relationship across party lines and across the political domain.
Before joining Parliament, Leadsom had forged a highly successful career in financial services, taking on senior positions at a number of influential City firms, including Barclays and Invesco Perpetual. After criticising the tripartite system of financial regulation in her maiden speech, the South Northamptonshire MP was immediately elected to the treasury select committee. And despite her former role as Barclays' Director of Financial Institutions, Leadsom pulled no punches in grilling the bank's ex-CEO, Bob Diamond, during the committee's inquiry into the Libor fixing scandal.
Leadsom's rigorous approach to a new analysis of the UK-EU relationship, together with her extensive experience at the centre of the financial services industry, will provide an unmissable, first-hand insight into an emerging and influential way of thinking gaining increased traction on the Conservative benches.
Register to tell a friend about this lecture.
Comments
If you would like to comment about this lecture, please register here.