Cultural Translations 1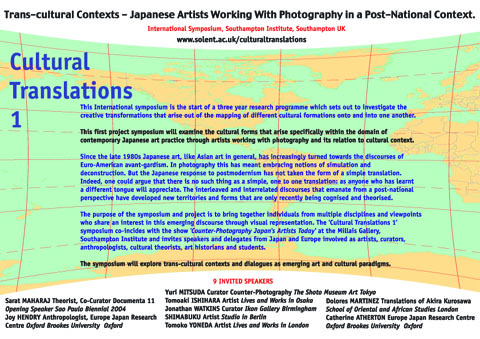 1 Day International Symposium which sets out to investigate the creative transformations that arise out of the mapping of different cultural formations onto and into one another
Cultural Translations 1 is a One Day International Symposium being held at Southampton Institute on Tuesday 19th Oct. The symposium coincides with an exhibition entitled 'Counter-Photography - Japan's Artists Today'currently showing at the Millais Gallery, Southampton. The purpose of the symposium and project is to bring together individuals from multiple disciplines and viewpoints who share an interest in cultural translations and the creative transformations that arise out of the mapping of different cultural formations onto and into one another. It features some highly acclaimed international speakers including Prof Sarat Maharaj (co-curator of Documenta 11 and opening speaker at Sao Paolo Biennial 2004) Yuri Mitsuda (Shoto Museum Art Tokyo), Dolores Martinez (SOAS), Catherine Atherton (Oxford Brookes University), Joy Hendry (Oxford Brookes University) and others. Further details of the event are on www.solent.ac.uk/culturaltranslations.
Register to tell a friend about this lecture.
Comments
If you would like to comment about this lecture, please register here.