BOOK TALK - 'Undercover: The True Story of Britain's Secret Police' with Rob Evans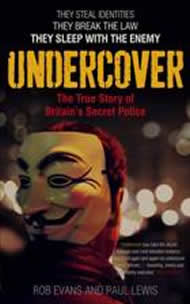 Rob Evans, the Guardian journalist who exposed the extent of police undercover operations, presents his evidence and discusses the implications as told in his new book.
'Undercover: The True Story of Britain's Secret Police' tells the gripping stories of a group of police spies and the uncovering of forty years of state espionage. It is written by Paul Lewis and Rob Evans, the award-winning investigative journalists who exposed the Mark Kennedy scandal.
This was an undercover operation so secret that some of our most senior police officers had no idea it existed. The job of the clandestine unit was to monitor British 'subversives' - environmental activists, anti-racist groups, and animal rights campaigners.
Police stole the identities of dead people to create fake passports, driving licences and bank accounts. They then went deep undercover for years, inventing whole new lives so that they could live incognito among the people they were spying on.
They used sex, intimate relationships and drugs to build their credibility. They betrayed friends, deceived lovers, even fathered children. And their operations continue today.
Undercover reveals the truth about secret police operations - the emotional turmoil, the psychological challenges and the human cost of a lifetime of deception - and asks whether such tactics can ever be justified.
Rob Evans is a reporter for the Guardian newspaper and has won awards for his work both on corruption scandals and for promoting freedom of information. He is also the author of 'Gassed: British chemical warfare experiments on humans at Porton Down'.
Speaker(s):

Date and Time:

18 September 2013 at 7:00 pm

Duration:


1 hour 30 minutes

Venue:


Housmans Bookshop
5 Caledonian Road
King's Cross
London
N1 9DX
020 7837 4473
http://www.housmans.com/

More at Housmans Bookshop...

Tickets:

Entry £3, redeemable against any purchase

Available from:

At the door on the night

Additional Information:

HOW TO FIND US:
We're very easy to find - just a two minute walk from King's Cross/St.Pancras terminals. Housmans is at the bottom end of Caledonian Road where it meets with Pentonville Road. If you have any problems finding us, give us a call!
Map showing our location: qr.net/housmans
Register to tell a friend about this lecture.
Comments
If you would like to comment about this lecture, please register here.