Magic and Madness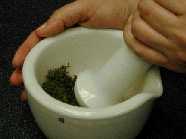 How far was mysticism related to mental illness?
Can modern 'magic' be useful in working through such human issues as depression and personal breakdown? And can spiritual techniques help to provide effective symptom control and psychological treatment alongside clinical methods?
From the rediscovery of herbs as remedies to current scientific studies in 'Spiritual Crisis'.Author and druid priestess Cat Treadwell will explore the paths taken by historic magical practitioners through to 21st Century Shamans and Neopagans.
Register to tell a friend about this lecture.
Comments
If you would like to comment about this lecture, please register here.