Tackling scepticism: How can we most effectively communicate climate change?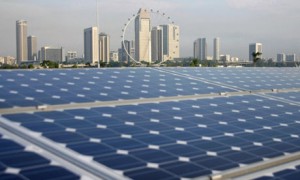 Come and hear from an outstanding panel of speakers on how we can better communicate climate change.
Why do debates on global warming feel like blood sport?
If you've had enough of the rage ruling climate discussions, come and hear from an outstanding panel of speakers on how we can better understand and positively transform scepticism.
We will be unfolding the psychology and drivers of denial in order to discuss other ways of engaging hearts and minds around sustainable action.
How can we change the way we communicate the case for tackling climate change, so that more people will be motivated to take action?
Join leading speakers from the fields of Philosophy, Climate Science and Science Policy as they share their insight. We are also delighted to have Ed Gillespie, sustainability communications guru and Co-Founder of Futerra probing the panel and helping you get advice, and share thoughts on some of the more provocative encounters you may have faced.
Speakers:
Chris Rapley
Professor Chris Rapley is Professor of Climate Science at University College London. He has published many papers on topics related to climate change including Communicating Climate Change and The Science of Climate Change. Previous to this role, he has been the Director of the Science Museum, Director of the British Antarctic Survey and Executive Director of the International Geosphere-Biosphere Programme.
Alice Bell
Dr Alice Bell is research fellow and head of public engagment at the Science Policy Research Unit, University of Sussex. She is also a science blogger for the Guardian and co-editor at New Left Project. She was previously lecturer in science communication at Imperial College, where she also conducted a PhD on children's science books and helped set up an undergraduate interdisciplinary science in context course on climate change.
Marianne Talbot
Marianne Talbot is Director of Studies in Philosophy at the University of Oxford. She has previously been the Chair of the National Forum for Values in Education and the Community, and a member of the Cabinet Office's project team on Vision and Values. Marianne has also been part of two advisory groups for the government, Citizenship and the Teaching of Democracy in Schools, and Personal, Social and Health education.
Ed Gillespie
Ed Gillespie is a co-founder of Futerra, a sustainability communications agency. He is also a London Sustainable Development Commissioner.
Register to tell a friend about this lecture.
Comments
If you would like to comment about this lecture, please register here.