Astrology and the 7 Hermetic Principles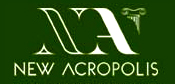 The aim of this lecture is to present the seven hermetic principles and to explain how they relate to astrological theory and practice.
The understanding of these principles can lead to a deeper and greater awareness of astrology and how it works. The theory and practice of astrology, in turn, can help us to understand the seven hermetic principles more fully, resulting in a better and deeper understanding of ourselves and the universe in which we live.
Register to tell a friend about this lecture.
Comments
If you would like to comment about this lecture, please register here.