The Court Martial of Evan Morgan, Viscount Tredegar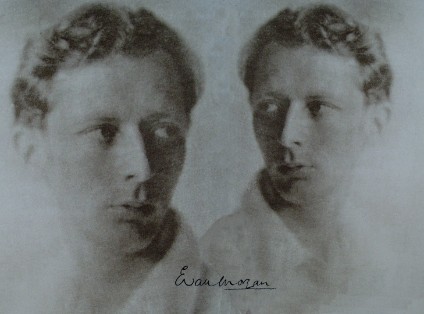 The outrageous tale of Temporary Major Evan, Viscount Tredegar, who was court marshalled under the Official Secrets Acts in 1942
Hon. Evan Frederic Morgan, ( 1893-1949), poet, artist, and escapist, the last Viscount Tredegar shocked his way through Eton, Oxford, Rome, North Africa, Bali, Canada and America. The Bright Young Things of London's Café Royal Society toasted him in aphorisms. Ogling dowagers indulged him whilst his straight-laced 'hunting, shooting and fishing' family was shaken by his escapades. In the Great War he dodged rat-infested trenches on account of a weak chest. Claiming he was renouncing pleasure and his birth right, He turned to mysticism and Roman Catholicism, studying at Beda College, Rome, Whilst acting as a Papal Chamberlain at the Vatican. In World War 2 he was working at Wing House, in the Special Section Carrier Pigeon Service. An incautious comment was made in front of two visitors from the Girl Guide movement The girls were at Wing House as part of a publicity campaign for the Guides and this lead to his downfall. The irony is, that Evan, who claimed a special affinity to birds, Should be brought down to earth by a carrier pigeon! The full story is revealed by Will Cross, author/ co-author of three books that feature the troubled life and times of the remarkable Evan Frederic Morgan, the last Viscount Tredegar.
Speaker(s):

Date and Time:

11 February 2014 at 7:00 pm

Duration:


2 hours

Venue:


Pontllanfraith Local History Society
Caerphilly CouncilsBuildings
Pontllanfraith House, Blackwood Road
Pontllanfraith , Blackwood
NP12 2YW


Show map



Organised by:


William Cross, FSA Scot
See other talks organised by William Cross, FSA Scot...

Tickets:

Apply to Pontllanfraith Local History Society

Available from:

Contact the Secretary of the Pontllanfraith Local History Society

Membership Information:

This is a members-only event


Members of Pontllanfraith Local History Society

Additional Information:

William Cross, FSA Scot is the author/ co wuthor of "A Beautiful Nuisance", "Aspects of Evan" and "Not Behind Lace Curtains", books that feature Evan Morgan's life and times.
Register to tell a friend about this lecture.
Comments
If you would like to comment about this lecture, please register here.