Scottish Poor Law & Taxation Records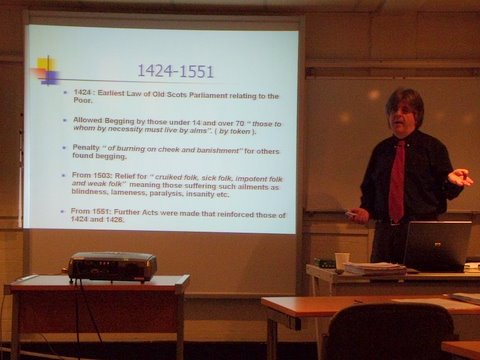 Two Lectures from William Cross, FSA Scot on the Scottish Poor Law and on Scottish Taxation Records
William Cross, FSA Scot will look at the Poor Laws in Scotland from the ancient Vagrancy Laws of the Old Scots Parliament through to the role of the Church of Scotland, the local heritors in collecting money at the Church door and in the parish raising assessments. What is in the Heritors records of importance/ use for family historians? Also looking at the Poor's House system generally and the status of paupers in the community. Besides this a consideration of the value of The Board of Supervision records and its annual reports ( from 1845 ) to family historians.
William Cross, FSA Scot will also look at taxation records in Scotland ( Old Scots Taxes, Poll Tax, Hearth Tax, Property Assessments etc ), all good names sources ( and many ancient ones ).
Register to tell a friend about this lecture.
Comments
If you would like to comment about this lecture, please register here.