Talks on Buddhism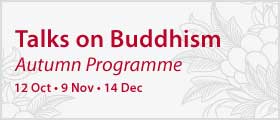 These public lectures are a great way to learn more about Buddhism, with time to go into a particular aspect of Buddhist teaching, and to ask questions.
Each lecture is given by an experienced lay Buddhist teacher. Suitable for beginners as well as those who have been practising longer.
Venue: London Diamond Way Buddhist Centre
Suggested donation £7
2pm, Sun, 9 November
Meaning of the Buddhist Refuge by Minde Stankunas
What are timeless values? This public lecture explains how to upgrade a modern urban lifestyle with a meaningful worldview.
2pm, Sun, 15 December
Introduction to Buddhist Meditation by Ewa Kazmierczak
2,500 years of practical meditation experience is made relevant and easy to understand in this public lecture.
Register to tell a friend about this lecture.
Comments
If you would like to comment about this lecture, please register here.