Family History for Beginners: Births, Marriages, Deaths and Census Records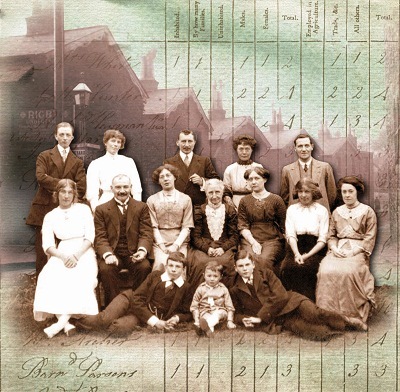 Starting out on family history research? Find out where to start and what to do to create your family tree.
Starting out on family history research? Find out where to start and what to do. The records that relate to the birth, a marriage and the death of an individual are referred to as the civil registration records. They are the fundamental building blocks of your family tree. Civil registration began in England in 1837, in Scotland records began in 1855 and in Ireland in 1864 (Irish non-Catholic marriages were recorded from 1845). However, registering a birth only became compulsory in 1874 so before then, children may not have been registered. Nineteenth and early twentieth century census returns give us a snapshot of a family living together in a household on the night of the census. It's true that the records are online now but just entering your ancestors' names in a search program may not give you any results or you may find people with similar names that aren't actually part of your direct family tree.
In this half-day course, Louise Taylor covers:
- how to correctly trace certificates of birth, marriage and death (civil registration);
- why it's important to find evidence of these milestones in your ancestors' lives;
- how to find your ancestors in census records.
There are no special requirements for this workshop and you do not need to be a Member of the Society of Genealogists to attend. We are hosting this Family History workshop to introduce beginners to the range of documents used in family research. Expect a friendly atmosphere, an expert tutor and a wealth of detail. During the break for tea or coffee, you can chat to other people attending who share your interests.
Speaker(s):

Louise Taylor | talks


Date and Time:

2 April 2016 at 2:00 pm

Duration:


3 hours

Venue:


Society of Genealogists
14 Charterhouse Buildings
Goswell Road
London
EC1M 7BA
020 7553 3290
https://societyofgenealogists.arlo.co/w/

More at Society of Genealogists...

Tickets:

£20.00

Available from:

Visit our website (www.sog.org.uk), email us events@sog.org.uk or phone us 020 7553 3290.

Additional Information:

To hold a place for you, the workshop must be paid and booked in advance.
Register to tell a friend about this lecture.
Comments
If you would like to comment about this lecture, please register here.