The Redemptive Role of the Feminine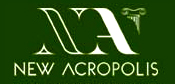 In this talk, Sydney-based philosopher Dr. Matthew Del Nevo, will touch on the role of the feminine archetype in religion, particularly in Christianity.
He will highlight the contrast between the portrayal of this archetype in the Russian Orthodox tradition – in the form of Sophia – and its portrayal in Western Christianity as Mary.
He will also bring in the way that Dostoevsky and Tolstoy dealt with this theme in their novels and suggest that its importance for religion and humanity is paramount today.
The talk will be followed by time for questions and discussion.
Register to tell a friend about this lecture.
Comments
If you would like to comment about this lecture, please register here.