The London Radical Bookfair & Alternative Press Fair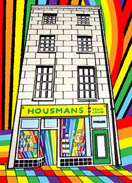 5 Rooms, 3 floors, 2 book prizes, 17 guest speakers, 120+ exhibitors, 3 art workshops, and countless good reasons to come along!
London Radical Bookfair & Alternative Press Takeover 2015
The London Radical Bookfair 2015 is on! After taking over Bishopsgate Institute last year along with our partners at Alternative Press, LRB are taking over 3 floors of a beautifully renovated Victorian warehouse at 47-49 Tanner Street near Tower Bridge on 9th May 12-7pm.
This free event is organised by the Alliance of Radical Booksellers (ARB), which formed in 2011 to raise awareness of the radical booktrade. The bookfair provides an annual opportunity to bring the UK's radical booksellers together to meet in person with publishers and the reading public. We will be filling every available space with bookstalls, artwork, talks, workshops, food, music, and good people.
Award ceremony for two ARB book prizes
The bookfair also allows the ARB to award its two annual book prizes: the Bread and Roses Award for Radical Publishing and the Little Rebels Children's Book Award. Shortlisted authors from the two awards will be giving talks and participating in panel discussions throughout the day as part of a programme which will culminate in the announcement of the winning titles by the guest judges.
Talks and panel discussions
There will be talks on all of the titles shortlisted for the Bread and Roses Award, with speakers including:
• Here We Stand: Women Changing the World -- Helena Earnshaw, Angharad Penrhyn Jones, Shauneen Lambe, Zita Holbourne and Helen Steel
• In the Name of the People: Angola's Forgotten Massacre - Lara Pawson and Jo Godfrey
• What the **** is Normal?! -- Francesca Martinez
• Syria Speaks: Art and Culture from the Frontline -- Zaher Omareen and Malu Halasa
• Stitched Up: The Anti-Capitalist Book of Fashion -- Tansy E. Hoskins
The bookfair will also hear from the guest judges of the prize: Natalie Bennett, Anna Minton and Nina Power.
There will be a panel discussion on the Little Rebels Children's Book Award, which will be hosted by Wendy Cooling, guest judge and founder of the Bookstart programme, and will include shortlisted authors from this year's award, such as Chris Haughton, Jessica Shepherd, Anne Booth, Liz Banks and Mel Elliott.
The London Radical Bookfair
The London Radical Bookfair will be showcasing the depth and breadth of radical publishing in the UK by filling 47-49 Tanner Street with stalls from booksellers and publishers. There are currently other bookfairs dedicated to progressive titles, but they tend to focus on tightly defined political traditions. The aim of the London Radical Bookfair is to be a broad church that brings together these traditions and makes them accessible to a wider audience.
The Alternative Press connection
For the second time the London Radical Bookfair has teamed up with Alternative Press (AP), whose extended family of writers and artists will be exhibiting and selling their self published comix, zines, art books, and prints. They will also share their expertise by leading workshops in print-making and book-binding.
Event Details
Saturday 9th May, 12-7pm
Free entry
Taking place at:
Ugly Duck, 47-49 Tanner Street
London
SE1 3PL
Links:
London Radical Bookfair
http://londonradicalbookfair.wordpress.com/
Alternative Press
www.alternativepress.org.uk/
Alliance of Radical Booksellers
http://www.radicalbooksellers.co.uk/
Bread and Roses Award for Radical Publishing
www.bread-and-roses.co.uk/
The Little Rebels Children's Book Award
http://littlerebelsaward.wordpress.com/
47-49 Tanner Street
http://uglyduck.org.uk/
Facebook https://www.facebook.com/pages/London-Radical-Bookfair/497414930304046
Twitter https://twitter.com/arbradbookfair
Register to tell a friend about this lecture.
Comments
If you would like to comment about this lecture, please register here.