Alchemy - the journey of transformation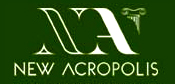 The science of alchemy is based on the notion that everything in nature evolves and goes through a process of transformation.
The study of this process requires an understanding of the unchanging laws of nature, which have been observed throughout the ages. There are three main phases of transformation that the alchemist goes through: black, white, and red. Throughout the process the alchemist unifies feminine and masculine polarities within himself/herself, symbolised by the sun and the moon. The final result of this process is the philosopher's stone.
The talk will be accompanied by images from medieval manuscripts, which through symbolic language describe the alchemical process.
The main aim of the talk is to introduce some essential philosophical ideas regarding the journey of transformation.
Register to tell a friend about this lecture.
Comments
If you would like to comment about this lecture, please register here.