'Getting By: Estates, class and culture in austerity Britain' with Lisa Mckenzie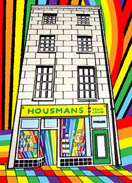 Fresh from her standing as candidate for Class War in the general election Lisa Mckenzie joins us to discuss her book which looks at the positive aspects of estate life, despite the many hardships.
While the 1% rule, poor neighbourhoods have become the subject of public concern and media scorn, blamed for society's ills. This unique book redresses the balance. Lisa Mckenzie lived on the St Ann's estate in Nottingham for more than 20 years. Her 'insider' status enables us to hear the stories of its residents, often wary of outsiders. St Ann's has been stigmatised as a place where gangs, guns, drugs, single mothers and those unwilling or unable to make something of their lives reside. Yet in this same community we find strong, resourceful, ambitious people who are 'getting by', often with humour and despite facing brutal austerity.
Lisa Mckenzie is a research fellow in the Department of Sociology at the London School of Economics and Political Science, working on issues of social inequality and class stratification through ethnographic research. Lisa brings an unusual and innovative approach to research by means of her extensive experience of bringing the academic world and local community together.
Register to tell a friend about this lecture.
Comments
If you would like to comment about this lecture, please register here.