'The Racket: A rogue reporter vs the masters of the universe' with Matt Kennard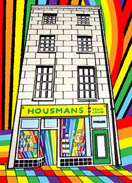 Matt Kennard gives a no holds barred political tour through the power elites' secret corruption, tyranny, destitution, robbery, mass murder and censorship.
While working at the Financial Times, investigative journalist Matt Kennard uncovered a scam - a deception and rip-off of immense proportions.
From slanging matches with Henry Kissinger to afternoon coffees with the man who captured Che Guevara, Kennard's unbridled access over four years to the crème de la crème of the global elite left him with only one conclusion. The world as we know it is run by a squad of cigar-smoking men with big guns, big cash and a reach much too close to home.
But, through encounters with high-profile opponents of the racket, Kennard shows that human decency remains. Now it's time for the world's citizens to also uncover the racket.
Reviews
'Matt Kennard threw away a cushy career with an establishment newspaper just to let you in on a secret: you don't get the story, you get the cover-up. From Honduras to Haiti to Washington to London, Kennard lets us in on the details of buried truth.'
Greg Palast, author of The Best Democracy Money Can Buy
'In this important book, Kennard explores the direct impacts of militarized, globalized American capitalism on some of the most battered parts of our world. With devastating precision and a formidable sense of urgency, he reports on corporate shock doctors in Haiti, imperialist drug warriors in Honduras, pillaging coal and mining giants in southern Africa and Appalachia -- and so much more. Most importantly, he never loses sight of the growing numbers of resistors holding on to their creativity and self-determination in the face of these forces.'
Naomi Klein, author of This Changes Everything and The Shock Doctrine
'A brilliant atlas of what Kennard calls 'heavy history' - the hurricane-like path of global destruction wrought by neoliberalism and wars against the poor.'
Mike Davis, author of Planet of Slums and In Praise of Barbarians: Essays against Empire
'Matt Kennard's perceptive direct reporting and analysis of policy aim to expose 'the racket' that dominates much of global society and to 'blow their cover'. His in-depth studies, ranging from Haiti to Palestine to Bolivia to Honduras to the destitute in New York City and far more, bring home in vivid and illuminating detail the reality of life and struggles of much of the world's population, their defeats and victories, their suffering and vitality and hope.'
Noam Chomsky, author of Hegemony or Survival and Failed States
'Matt Kennard's The Racket is a powerful tool for self-education: it offers essential information about the insatiable and sordid nature of global, elitist, exploitive, profit-blinded governments and institutions that have, together, perfected the task of making billions of people miserable, poor and fatally unhappy. It also offers testimony from activists and artists who are not giving in, giving up, or lying down.'
Alice Walker, Pulitzer Prize-winning author of The Color Purple
Register to tell a friend about this lecture.
Comments
If you would like to comment about this lecture, please register here.