A Man's Guide to Speaking Woman with Eli Block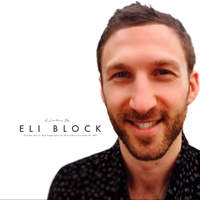 Come listen to a man who spent 3 years in an Orgasm community and how he teaches men to understand what women really want.
Mine is the road less traveled. I was part of an Orgasm community for two years where I was taught by women how they liked to be played with, loved, deeply seen, and fucked. I was brought up in a Buddhist community so I was taught lucidity in my emotions, and a frigidity in my sex.
These women, they practiced Orgasmic Meditation (OM). They were turned on, and they knew what they want. They shared with me secrets that few women had ever dared to tell me. They told me how to get into their souls, as they had learned to travel there through their own practice of OM enough times to be able to guide me. In short, they taught me how to speak their language.
This Thursday, just after landing in London from LA that afternoon to teach a men's program this weekend, I will share with you the experience of a man who for the last 5 years of his life learning how to speak the language of woman. Where the language of man includes proper syntax, good grammar and correct comma placement; the language of woman also includes visceral emotional experience, connection that defies logic, and vulnerability that reveals parts of ourselves we never thought we could touch.
Join me this Thursday for an intimately revealing (and at times embarrassing) evening of discovering women in a whole new way.
Register to tell a friend about this lecture.
Comments
If you would like to comment about this lecture, please register here.