Invisible Egypt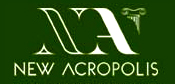 This talk invites you to discover the spirit of Egypt through its symbols, myths and mysteries in order to understand the timeless importance of the symbolic dimension.
Does ancient Egypt still have a message for our time?
For thousands of years Egypt has captured our imagination and, through the currents of Pythagoreanism, Platonism and the Corpus Hermeticum, Egypt has continued to inspire and be part of the lifeblood of Western civilization.
Let's see whether we can still draw some energy and inspiration from it for the renewal of ourselves as individuals and our society as a whole.
Register to tell a friend about this lecture.
Comments
If you would like to comment about this lecture, please register here.