The Arabian Bedouin in the Modern World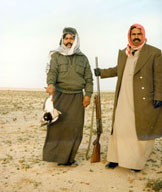 Open Inaugural Lecture: The Arabian Bedouin in the Modern World: Professor Bruce Ingham
The lecture will cover the history and present situation of the bedouin mainly in Saudi Arabia. Bruce Ingham has researched the dialects and oral tradition of the bedouin since the 1980s and still regularly visits the Al Dhafir bedouin in their tribal centre at Al Sufairi near Hafar al Batin in northern Saudi Arabia. Slides will be shown of bedouin life among the Al Murra and Al Dhafir tribes.
Historians usually date the beginning of the bedouin way of life as we know it, to around the beginnings of the Christian era, growing out of the Nabatean Kingdoms of Northern Arabia. The Nabateans left us the ruins of Petra in Jordan and Palmyra in Syria, now famous tourist attractions. It is thought that the appearance of the bedouin followed the demise of those kingdoms resulting from the decline in the spice trade, which is thought to have been the main basis of their prosperity. The Nabateans are said to have evolved the use of camel cavalry, by adapting for camels the saddle arch used by the Persians for horses. The bedouins then continued this camel technology for use in a nomadic way of life.
The present bedouin tribal units in some cases bear the names of those of the early Islamic era and may in fact be related to them. Many however are tribal units, which originate in the more recent centuries.
In the present day many bedouin do retain their old nomadic way of life. However the modern era has provided a variety of new occupations, which still enable many of them retain some link with the desert life. Others, because of the spread of education, have entered occupations associated with the modern economy, but still retain an interest in their culture and history.
Professor Bruce Ingham's Inaugural Lecture.
Chair: Professor Otto Jastrow, Lehrstuhl Orientalische Philologie, Universitat Erlangen- Nurnberg
Speaker(s):

Professor Bruce Ingham | talks


Date and Time:

19 January 2005 at 5:30 pm

Duration:


1 hour

Venue:


Press and Information Office, SOAS
School of Oriental and African Studies (SOAS)
Thornhaugh Street
London
WC1 OXG
+44 20 78 98 40 75
http://www.soas.ac.uk

More at Press and Information Office, SOAS...

Tickets:

Free

Available from:

Open Event: No advanced booking necessary

Additional Information:

Enquiries to mo2@soas.ac.uk
Register to tell a friend about this lecture.
Comments
If you would like to comment about this lecture, please register here.