Culture Heroes: The value of culture for transforming self and society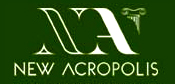 Is culture merely a luxury item for prosperous societies, or does it have a more profound role? This talk will look at the different meanings of the word 'culture' and explore their relevance for today and what effect cultural expressions such as art have on the way we think, feel and act.
Register to tell a friend about this lecture.
Comments
If you would like to comment about this lecture, please register here.