'Material Miracles'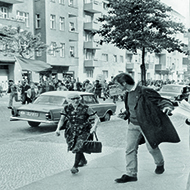 Professor William Gillin's Inaugural Lecture will look at how technological breakthroughs are based on developments in the fabrication of new materials.
. This lecture will highlight some examples of the ways materials have influenced he modern world and go on to explain the current research that may lead to future miracles.
Attendance is free of charge but you must book a ticket to attend. Tickets can be obtained from: [eventbrite link] or by visiting www.qmul.ac.uk/events before 18th November.
Register to tell a friend about this lecture.
Comments
If you would like to comment about this lecture, please register here.