Religion, philosophy and spirituality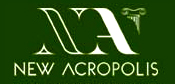 The Victorians found sexuality hugely embarrassing. Are we now similarly embarrassed about our spiritual needs and our search for meaning?
This talk will present a philosophical and psychological view of the "repression of the sublime" and the importance of understanding spirituality as an integral part of our human nature.
Register to tell a friend about this lecture.
Comments
If you would like to comment about this lecture, please register here.